Welcome to the inaugural post of "US: A Photo Project" intended to bring mothers of all walks of life here in Keene, NH, together.
My first, features Marcy Tanniru, 39, industrial marketing consultant and mother of 2.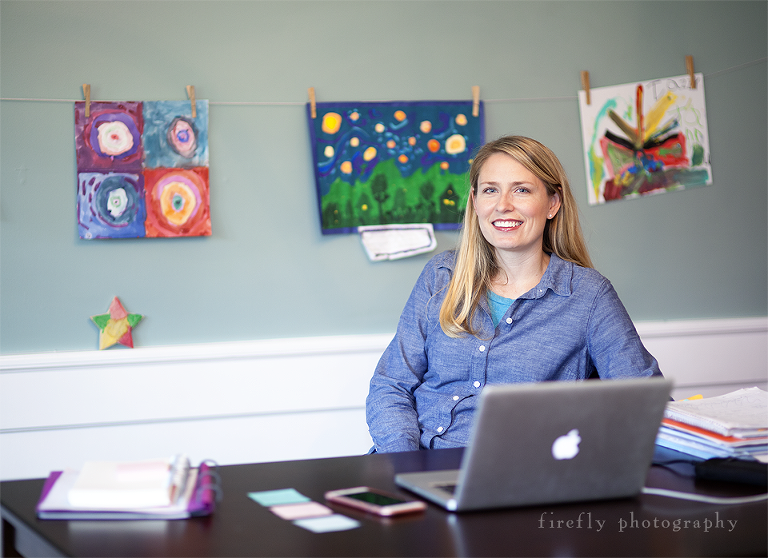 "Do you want to be the first person in my series of US  photo essays?" Dana asked. "I can be there around 3:30."
TODAY? I was sitting in my office, still in my running clothes. No makeup, hair up in a lumpy braid. My desk was invisible under papers and notebooks.
No worries, I thought. I put some real clothes on and took the flat iron to my hair.  I added some make up, lip gloss, and my favorite necklace (a strand of pearls). I pulled my favorite jeans out of the dirty clothes, and put on some professional-looking loafers.
Then, I attacked the mess in the office. I carefully transitioned important piles to the laundry room, cleared furniture tops, dusted, and vacuumed. And I quickly hung a string across my bare wall and clothes-pinned my favorite pieces of children's artwork from around the house to add some color to the walls.
Dana didn't even have both feet through the door, when she looked at me and said, "Uh, I think the pearls are overkill."
Then she wanted to take the photo in my laundry room. Next to the ironing board that currently supported the stacks of important things that I moved from the desktop. (The laundry room, I should mention, was a disaster before I moved all the office clutter into it.) To my relief, the lighting in there was terrible, and she quickly tossed out that idea and moved me back to the office.
Earlier in the afternoon, she and I had texted a few ideas about what my short highlight should be about.
"The struggle to find balance? The paradox of wanting a career, but also wanting to be able to be a mom whenever you're needed?"
So with that in mind, I had intended this quick glimpse into my own individual mothering experience — to be about how I was always career-driven, and didn't think I wanted kids until I actually got married and the reality presented itself, and then once I did, I struggled with an intense inner war between wanting to be home with the kids ("Are you going to let someone else raise them?", asked someone once) and actually using the two degrees that I spent a good chunk of my twenties working on.
And that story is fine and good — we all have our own tales of struggling for balance while wearing pearls.
Life doesn't need to be Facebook perfect, and you don't need to spend 90 minutes putting yourself and your house together, so the world sees the brightest, shiniest version of you. So that is the real story – there's always a real story behind the photo, isn't there?
Firefly Photography is now booking appointments in  NH (Keene, Seacoast, Upper Valley and Monadnock area)  VT  and western MA for dreamy maternity, newborn, and child & family portrait photography.
You might also like
»
Snowflake Fairies | Firefly Photography – NH Photographer
»
george | nh newborn photographer
»
aidan | upper valley newborn photographer | hanover nh newborn photographer
»
mother-daughter keene nh child photographer